I posted a couple of brief reviews on several (not all) episodes of the second season of the ongoing e-book serial The Witch Who Came In From the Cold; and while each of them is too short for a blog post, I was thinking that maybe it might be of inerest to someone if I posted the whole bunch colletively (which is either a desperate attempt to scrape out the bottom of the barrel to scratch out a new blog post or a clever way to go meta and imitate the serial / omnibus structure in my post – your pick).
#2.1: Awakening, by Lindsay Smith
I rather enjoyed the first season of this interesting mash-up between paranormal Fantasy and spy novel, in spite of its somewhat annoying tendency to pull its punches every time anything even faintly resembling a big showdown or a major reveal came in sight. In consequence, we start into Season Two with dozens of dangling threads from the previous season and, quite unsurpringly, none are taken up in the season opener. Well, almost none, for we do meet an old acquaintance which we weren't really expecting to see again, at least not this soon…. but let's avoid spoilers.
Awakening sends Seasons Two off with an explosive opening, and – as has been a constant through all instalments of this series so far – is great fun, whetting the reader's appetite for more magic and espionage mayhem in 1970's Prague.
#2.2: Complicating Factors, by Max Gladstone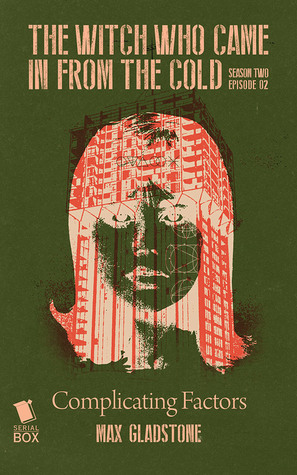 One of the fascinating things about this series is that there never seems to be anything happening even when there is a lot going…. or, conversely and simultaneously that there appears to be a lot going on even if there isn't anything happening. I'm finding myself utterly unable to tell whether this second installment of the second season brought the plot forward or whether it was treading water, but I can say with confidence that I had a blast reading it. Things may get clearer as the series progresses… or they may not; and I have a nagging doubt whether I'll be actually know the difference. In short, I am eagerly looking forward to the next installment.
#2.6: Talisman, by Fran Wilde
Almost halfway through the season, this is the guest author contribution. I've only known Fran Wilde as author of second-world Fantasy before, so this seemed a somewhat surprising choice, but it is obvious throughout the installment that the author was having lots of fun with this, and even appears to have some done research (or maybe just happens to know Prague well), going by the extensive name dropping of street and place names.
In short, another enjoyable episode, in a second season that so far I'm enjoying even more than the first: things come to a first crisis here as almost everyone of any relevance is converging at a boxing match, and complications are piled upon complications. Like in Season One, the plot is a mess but it seems a far more focused mess as the various intrigues actually are related to each other (even if most of the players are at this stage unaware of that). Utterly delightful.
#2.9: Aftermath, by Ian Tregillis
As one would expect with such a project, the quality of the writers varies a bit. There isn't a bad one in the bunch, but to my estimate it ranges from competent to excellent. But the one writer who I think has been consistently great through both seasons is Ian Tregillis, who has delivered a brilliant piece full of great atmosphere, crips dialigue and fresh, striking imagery with each installment of his.
And Aftermath is no exception – while I usually burn through each episode, turning pages quickly to find out what is happening next, those by Ian Tregillis I force myself to read slowly, to savour his wonderful prose. Admittedly, that usually only lasts until about halfway point, then I get carried away by events and keep gulping down the rest, but even so… Tregillis is an outstanding writer who I really need to read more of.
#2.12: Zügzwang, by Lindsay Smith
Just one more installment to go now…. Compared to the Season One finale, which was a comparatively relaxed affair, they've really racked up the tension this time round – excitement is at a peak and I really want to know how all of this will turn out. And it doesn't help that this episode ends on a mean cliffhanger – why isn't next Wednesday yet?
Oh, and on a sidenote – while I can relate to a non-native speaker's urge to add an Umlaut at every possible opportunity, there really isn't one in "Zugzwang." Or is this some encrypted message I didn't get? Hmmm….
#2.13: We All Fall Down, by Ian Tregillis
To call this an explosive finale to the season would be a gross understatement. Ian Tregillis is in particularly fine form for this episode and delivers a kaleidoscopic showdown, brief flashes of an ongoing action, small, colourful splinters that fall in place to form a bigger picture, while things are getting blown up left and right until a big explosion ends it all.
This was a very satisfying season finale, even though, just like last time, it left a lot of lose ends dangling about. But that's of course intentional – they want people to return for the third season, after all. And this much is certain: After this episode, things in Prague will never be the same again.
Season two of The Witch Who Came in from the Cold was even more fun the first one, mostly due to, now that exposition is out of the way, a tighter and more focused plotline. If I have one small niggle then it is that the Cold War was pushed quite far into the background this time b< the magical conflict. I cannot really complain about this, seeing how fun the results turned out to be, but I do hope they'll pay a bit more attention to that in the next season. Which I'll totally will be along again for.