Sometimes, what is planned as a short entry into my book diary turns into a longer one – blame not having much to do at work. So here is something closer to my non-reviews again.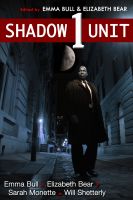 I've been fascinated by Shadow Unit ever since I first read about it – both because of the concept and because several favourite authors (Elizabeth Bear! Sarah Monette! Amanda Downum!) are involved with this. The problem used to be that I do not much like to read on the computer, so except for the occasional, wistful-sigh-accompanied visits to the web site nothing ever came of the fascination. – But now I have Kindle, and with some really fortituous timing all three completed seasons are out as e-books, so I  can finally read them. And you know what? Judging by this first instalment, they're just as good as I expected.
Shadow Unit is a virtual TV show – what it reminds me most of (though your mileage may vary, depending on what your favourite shows are) is Criminal Minds with a paranormal twist (which might yet turn out to be science-fictional – it's still too early to tell yet). It's about a special FBI unit down the floor from the BAU (who refer to it mostly as the WTF) and concerns itself with so-called "gammas", perpetrators that have undergone some mutation, or maybe it is an infection – neither the reader nor the protagonists know at this stage, but I'm expecting that the overarching plot will eventually shed some light on that. Beside that plot, the show (there's four novellas by Emma Bull, Elizabeth Bear, Sarah Monette and Will Shetterly in this instalment, plus several vignettes) spends a lot of time on the mebers of the Shadow Unit, their characters and their histories – the first two episodes here focus very strongly on that, even to the point of pushing the individual cases (the third level Shadow Unit plays out on) somewhat into the background. It is quite a varied and fascinating cast of characters presented here, all of which, is being hinted at in varying degrees of explicitness, come with their own backstories and secrets which  am expecting will be elucidated in due course. As an additional twist, two of the team members are showing some symptoms of the mutation/infection/whatever and while they have not turned gammas yet (they're designated as betas, with normal humans being alphas) they might very well be on their way there…
Shadow Unit works very well, both on the level of giving the feel and atmopshere of a police procedural TV show and on that of a serial work of literature – each of the authors retain their indivual, distinctive voice and yet each contribution fits snugly into the greater whole, telling a thrilling story (or, in the case of the vignettes, shedding a brief light on various team members) while at the same time exploring the protagonists and furthering the overarching plot. The episodes are suspenseful, moving, funny (though I have to admit that some of the banter went rather over my head, probably due to me not being an USian and as soaked in their popular culture as the writers are). This seems like the start of a very enjoyable ride and I'm keen to find out where the writers are going to take it.